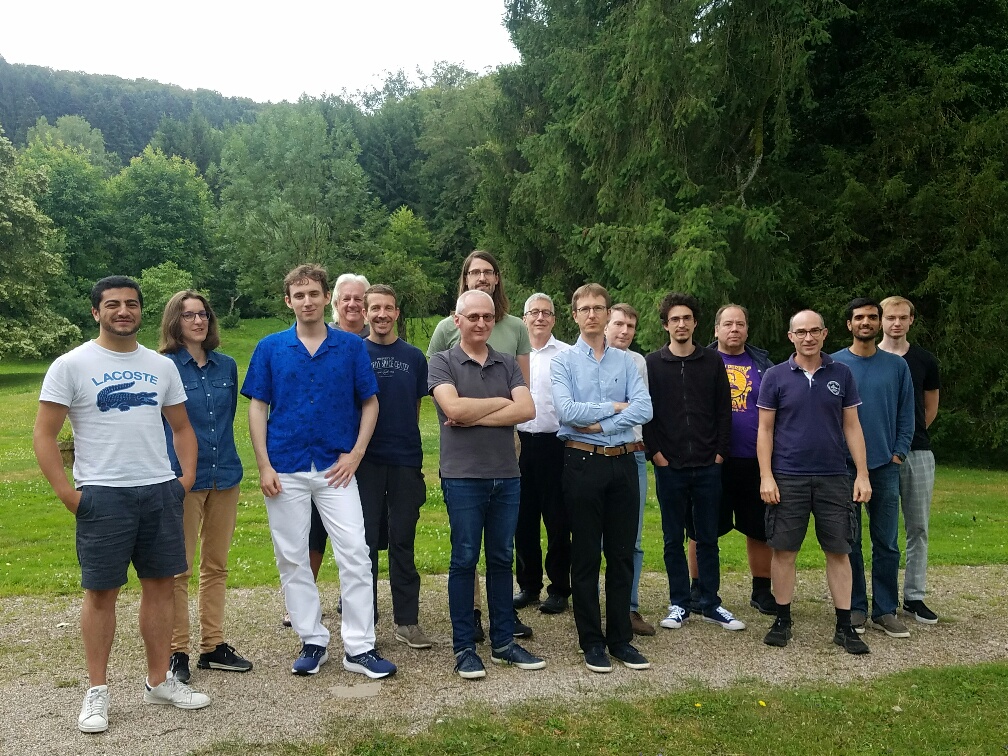 Organizer: Frédéric Blanqui
Date: 25-28 July 2023
Venue: La Résidence, 5 rue des Mousses, 88340 Le Val d'Ajol, France
How to get there? There are direct trains from Paris to Remiremont train station (East of France). A shuttle will be organized from Remiremont train station and the hotel on July 24 at 15:15, and from the hotel to Remiremont train station on July 28 at 15:15. Le Val d'Ajol is also 1h30 away by car from Bâle airport, and 3h by car from Luxembourg, Karlsruhe or Zurich. There are also a few buses between Remiremont and Val d'Ajol.
Programme: Working individually or in small groups on the development of tools to make progress on the deliverables consisting of databases or software developments.
Cost: The cost of accommodation and meals is 150 euros/day/person. EuroProofNet can reimburse to a limited number of people the transport + a daily allowance for the accommodation and meals for a number of participants with the following priorities: contribution to EuroProofNet objectives and deliverables, people from COST inclusiveness target countries, young researchers, under-represented genders. Check eligibility rules and reimbursement rules to get more details.
Registration and funding application: Deadline: 14 May 2023. The number of participants is limited. If you want to participate, apply to EuroProofNet if not already done, and fill in the following application form. Applicants will be notified by May 18. Accepted participants will then have to make a bank transfer of half of the cost to La Résidence (IBAN: FR7617206002135619393901050) in order to confirm their participation. In case of cancellation before July 21, they will be reimbursed. The second half will have to paid at the hotel.
Participants:
Monday 24 July: (for those arriving on July 24)
| | |
| --- | --- |
| 15:15-15:45 | shuttle |
| 15:45-16:00 | check-in |
| 16:00-16:15 | coffee break |
| 16:15-18:15 | work session 1 |
| 18:15-19:30 | free time |
| 19:30-21:00 | dinner |
| 21:00-23:00 | work session 2 (optional) |
Tuesday 25 July:
| | |
| --- | --- |
| 08:00-08:30 | breakfast |
| 08:30-10:30 | work session 1 |
| 10:30-10:45 | coffee break |
| 10:45-12:45 | work session 2 |
| 12:45-14:00 | lunch |
| 14:00-16:00 | work session 3 |
| 16:00-16:15 | coffee break |
| 16:15-18:15 | work session 4 |
| 18:15-19:30 | free time |
| 19:30-21:00 | dinner |
| 21:00-23:00 | work session 5 (optional) |
Wednesday 26 July:
| | |
| --- | --- |
| 08:00-08:30 | breakfast |
| 08:30-10:30 | work session 1 |
| 10:30-10:45 | coffee break |
| 10:45-12:45 | work session 2 |
| 12:45-14:00 | lunch |
| 14:00-16:00 | work session 3 |
| 16:00-16:15 | coffee break |
| 16:15-18:15 | work session 4 |
| 18:15-19:30 | free time |
| 19:30-21:00 | dinner |
| 21:00-23:00 | work session 5 (optional) |
Thursday 27 July:
| | |
| --- | --- |
| 08:00-08:30 | breakfast |
| 08:30-10:30 | work session 1 |
| 10:30-10:45 | coffee break |
| 10:45-12:45 | work session 2 |
| 12:45-14:00 | lunch |
| 14:00-16:00 | work session 3 |
| 16:00-16:15 | coffee break |
| 16:15-18:15 | work session 4 |
| 18:15-19:30 | free time |
| 19:30-21:00 | dinner |
| 21:00-23:00 | work session 5 (optional) |
Friday 28 July:
| | |
| --- | --- |
| 08:00-08:30 | breakfast |
| 08:30-10:30 | work session 1 |
| 10:30-10:45 | check out & coffee break |
| 10:45-12:45 | work session 2 |
| 12:45-14:00 | lunch |
| 14:00-15:00 | free time |
| 15:00-15:45 | shuttle |